October 7th, 2012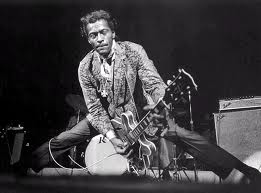 Chuck Berry
During the years 1970-1974, as the Concert Chairman at my undergraduate school, Hofstra University, I produced a lot of really great shows: The Byrds, Procul Harum, The Allman Brothers Band, Stevie Wonder, Edgar Winter's White Trash, Hot Tuna, The New Riders of the Purple Sage, The Grateful Dead, The Flying Burrito Brothers, Van Morrison, James Taylor, Foghat, Savoy Brown, Curtis Mayfield, Albert King, J Geils, Alice Cooper to name but a few.
Obviously there are a hundred stories in that naked city, and as my memory serves me, I'll spin a few. But today I'd like to reminisce about the big daddy of rock n roll himself, Charles Edward Anderson Berry, or as we all know him, Chuck Berry. Chuck's 86th birthday is coming up in just a few days. We all should know Chuck Berry's story of how he was born the fourth child in a family of six children in St. Louis MO in 1926. He was arrested and convicted of armed robbery when he was a teenager, got married right out of prison, had a baby and had gigs as a janitor, automobile factory worker and was trained as a beautician and lead a pretty ordinary life.
But then on May 21, 1955 Chuck Berry did something extraordinary, he invented rock n roll. He recorded MAYBELLENE for Chess Records and the rest, as they say, is history.
I booked Chuck in 1973. I believe his fee at the time was $2500. Most contracts for recording artists had what was known as "riders" attached to a standard vanilla agreement. The "riders" were special instructions to the promoter to make sure that the promoter provided certain "amenities" that a performer wanted. For example, Joni Mitchell wanted her dressing room filled with roses, The Grateful Dead however wanted oriental rugs in theirs. Well, Chuck Berry wanted something that was a little strange, even for musicians of that era. Chuck Berry wanted his band to be provided by the promoter. Me.
You see, Chuck traveled by himself. Well, sorta by himself. On this night Chuck was to be playing at the Hofstra Playhouse, a sweet little acoustically perfect theater that sat 1120 people. The Playhouse was the pride and joy of Dr. Miriam Tulin, Hofstra's very conservative, prissy, middle aged chairperson of the Drahmaaaaahhhh Department. Dr. Tulin HATED me, the long hair hippy that brought the devil's music into her Shakespearean Globe like palace.
When I read the Chuck Berry "rider", I knew exactly who to call. My friend Jaime Frazier and his brother Charlie had a great local rock n roll band that would fit the bill perfectly: guitar, piano, drums and bass. I think I paid them $350 for the evening… they were thrilled. To be playing with Chuck Berry, they probably would have paid me.
The show was a sellout ($3 a ticket). Chuck was to hit the stage at 8PM, sharp. The band had done their soundcheck, but still didn't have the set list… they had no idea what songs they were going to play that night. Lighting, however was set and ready. Everything was go… except no Chuck and no set list.
At about 7:30PM a Cadillac Eldorado pulled in to the parking lot. A thin man got out of his car and opened the trunk. He pulled out two guitar cases and headed towards the entrance. It was Chuck Berry and I was there waiting for him, after all he went on in less than a half an hour.
I reached my hand out to shake his hand but Chuck said " Where's the box office?"
I offered to carry his guitars but he said no. We opened the door to the box office and Chuck placed one guitar on the floor and the other one on a long table. He started to open the guitar case on the table and I had no idea what was going on. He turned towards me revealing an empty case and said " Twenty five hundred dollars, let's count it, now ".
I then realized that he wanted all of the cash prior to taking the stage and that he wanted to personally count it and stash it in his empty guitar case. Well, counting $2500 in ones took awhile. Finally at about eight minutes to eight, Chuck closed and locked the case, went out to the Caddy and placed it in the trunk. Walking back into the box office, he picked up his "other" guitar and walked around the back of the Playhouse into his dressing room. He took of his coat, grabbed his Gibson ES 335 and stood in the wings, stage left.
Standing off stage, I announced "LADIES AND GENTLEMEN… CHUCK BERRY!"
Jaime Frazier's band was pumped and ready to go. Chuck Berry sauntered out onto stage and the crowd went wild.
The lights came down and I could hear Jaime yell above the din of the crowd, "HEY MR BERRY, WHAT SONG ARE WE DOING?.
Chuck turned around, gave his big ol'signature smile and with a twinkle in his eyes, just as the lights came on, said:
"A CHUCK BERRY SONG".