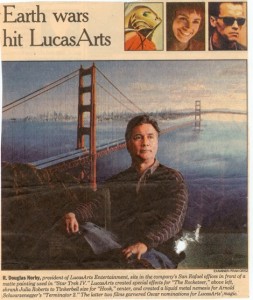 For me, life was very different back in the 1990's.  I was married, had three children that were still, well, children. My hair was brown and my waist was 30″. I was a workaholic, spending at minimum 12 to 14 hours a day at work.
I had left ILM in the Spring of 1992 and had decided to start a competing VFX company because I believed then, as I do now, that VFX and animation are key ingredients to marketing and ultimately selling tickets to films.
My original vision in starting this new company was to create something similar to LucasFilm, a content production company that produced films, TV, new media ( as it was called back then) and videogames.  But I wanted a new kind of LucasFilm, a company fueled by creativity and technology, but with partner/owners that trusted creative collaboration with their employees. I saw the new venture as a new kind of studio. A gathering of exceptionally talented men and women that could create new stories with cutting edge technology. Sort of the same concept that Mssrs. Lassiter and Catmull had at Pixar, but in the live action vain.
Back then, a group of the most senior execs and creatives at ILM were frankly fed up with the way things were going at LucasFilm. Given the zeitgest of the Bay Area and the heady times of Silicon Valley's IPO mania, it seemed to several of us at ILM, that we should take the burden of LucasArts… Skywalker Sound, ILM, etc. (at the time it was indeed a financial burden) from George and manage this company ourselves…. sort of a management/creative buy out. The only problem was, George didn't quite see it that way! And try as I may to get to Mr. Lucas and explain what I and his most trusted cadre of creative, technical and business employees wanted to do, I could never get through the impenetrable wall of Lucasfilm's president Doug Norby.
In fact, Norby and I saw things so differently at times that I found it, towards the end, difficult working for him.
Case in point… As an executive, I wanted the managers that reported to me to be appropriately incentivized in reaching or exceeding the goals of the organization. No brain science needed… a bonus compensation plan needed to be structured. As a CEO of other creative organizations prior to my stint at LucasFilm, it was obvious to me what we needed to do.  Doug Norby on the other hand was a Harvard educated, ex McKinsey employee.  He felt that we needed to hire some consultants to help us structure this simple plan, even though IMHO, LucasFilm had an experienced HR staff that could easily put a plan in place.  After countless meetings and lord knows how much "consulting" money spent, we had our plan.
I explained the plan to my execs… Jim Morris (now of Pixar fame), Ed Jones, Marty Schindler and a few others. We were very focused at exceeding our plan and getting paid our bonuses. At the time we were not compensated like our counterparts at other Bay Area companies and retention of senior execs was critical to the success of ILM. Upon completing our fiscal year, the ILM team,  as the euphemism goes, "hit the ball out of the park". Unfortunately, Norby's divisions struck out. And given the over all financial picture, Norby and the Board decided not to pay any bonuses that year. Now, I'm a realist and when there isn't enough money in the corporate coffers to pay out bonuses, well, then the bonuses should be paid when the company DOES have the money to do so. Sounded fair and reasonable to me.  It didn't to Norby.
I explained the situation to my execs. They were flabbergasted, to say the least.  They were asked to do the impossible and they did…. and now the bonus that they had been promised was not forthcoming… ever.
I met with Norby and explained the situation.  He told me that it was the Board's decision ( The Board by the way, was a group comprised mostly of Norby's friends and associates). I asked to speak to the Board.  I wrote a memo to the Board.
The Board meeting was relatively calm and proper ( which brings up the old joke… " Why don't WASP's have orgies…. too many thank you cards" ). The decision was made… no bonuses this year and the Company did not have any obligation to pay them, ever.
I found this outrageous. Norby said his hands were tied. I decided that I could no longer work for Doug and walked into his office to tender my resignation. Interestingly enough, Norby opened his top desk drawer and handed me my resignation letter! I guess he was a lot smarter than I had given him credit for.
I returned to my office and had told my Assistant, Suzy McLaughlin, what had happened.  She too was shocked.  I packed up my office and stealthily left the Kerner campus late that Friday evening, never to return to LucasFilm again. When the following Monday morning came, it was as if I never existed at ILM ( and interestingly if you see any LFL sponsored documentaries about ILM or read any LucasFilm approved books about ILM, my name never shows up…as if my years at the Company never existed). There are remnants of my tenure however… the transition to digital, some Halloween Parties that are still talked about in hushed tones and… during my six (6) year term there, five (5) Oscars for Best Visual Effects. In fact, after leaving ILM in 1992, they have only won three (3) Oscars in the next eighteen (18) years and one of them was for JURASSIC PARK, a film that was well into production when I left ILM !!! Not a bad record for a guy that never shows up in the history books!
On that very Monday after my hasty exit, there was a commercial ready to shoot… a Miller Lite spot that was to be directed by a friend of mine. In fact, it might have been the only commercial he has, or has ever since, directed. Miller Beer wanted a special director for this spot where people morphed and aged. I called my then buddy, and asked him if he would consider directing a TV spot for us. After several rather heated discussions with his agent, Jeff Berg of ICM  (why do agents have to be so…. difficult ?), we came to an agreement and closed the deal.  Miller was thrilled. The agency was thrilled. And the ILM crew was excited to be working with this genius filmmaker once again. But when Jim Cameron showed up on Monday morning looking for me…. well there was "some 'splainin' to do".
Miller Lite Commercial Director James Cameron
Word travelled quickly. Scott had indeed left the building. And no one (except Diane Holland) knew where he went or why he left. At the time there were about 350 ILM'ers, and as its General Manager, I had the good fortune to know and have a relationship with most of them.  My disappearance, aided by Jim Cameron's appearance was being discussed everywhere within the ILM Kerner facility. Norby must have heard the rumblings all the way over at SkyWalker Ranch (some 10 miles away) because he called for a Company meeting to be held on the ILM stage.
According to many ( I was not there, so I can't validate this as fact), the stage was packed by ILM staff.  Norby, cardigan sweater, hushpuppies and all took to the podium. He had explained that Scott had decided to leave LucasFilm to "pursue other ventures". The crowd was agitated.  Someone screamed for Norby's resignation, others called him a liar and still others demanded the truth about where I had gone and why I had left. The Company Meeting had not gone well. The SF Examiner had gotten leaks that things were coming apart at LucasFilm and that key people were leaving the Company . The next day the headlines screamed in the business section of the SF Examiner " EarthWars in LucasFilm".
That night the Academy Awards were being telecast and George, who had not personally ever won an Academy Award, was being feted as the recipient of the Irving Thalberg Award.  Now, I'm not sure what GWL knew about the goings on at ILM that day, but I can only hope that the news of the turmoil at his company did not ruin his special and well deserved Oscar.
A few weeks later, my family and I were trying to sort out what we would next do… I had no job, and had just started looking for possible investors and partners for the new incarnation of this new VFX company ( the ILM folks were not interested in leaving the Marin area and possibly moving to SoCal). The future seemed scary. I had 3 kids, a stay at home wife and no visible means of supporting them. I decided that I would splurge and take them out to a local San Rafael Mexican eatery. We walked into the establishment and there sitting at a table with his young daughter, was none other than George himself.
In the years I worked at LucasFilm, I only spoke to George a handful of times. But seeing him there eating his enchilada with Amanda, I just had to come over and say something.  After all, my over all experiences at ILM and LFL were great and if it wasn't for George, my world, and indeed the world, would not have been the same.  So…I cautiously approached.  He looked up at me, and I said " Thanks George for all that you and ILM have done for me and my family", and George looked at me, with a blank stare and said " Sure….    by the way, what's your name?"